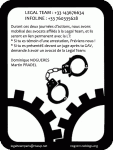 RAPPEL n° LEGAL TEAM : +33 143676634 Rappel n° INFOLINE : +33 760335628 legalteamparis (at) riseup.net LA LEGAL TEAM : Durant cette deux journées d'actions, nous avons mobilisé des avocats affiliés à la Legal Team, et ils seront en lien permanent avec la Legal Team, alors : · Si tu es présentéE devant un juge après ta GAV, demande à avoir un avocat de la Legal Team Martin PRADEL Dominique NOGUERES · Si tu es témoin d'une arrestation, transmet au plus vite à la Legal Team : nom de la personne/lieu/nombre des interpellés/type de service de police/nombre des flics. S'il…
G8-G20 France 2011

La prochaine réunion internationale de préparation aura lieu le dernier week-end d'avril (le samedi 23, dimanche 24 et lundi 25) en bordure de Lyon au Fort de Vancia à Sathonay-Village.
The next international preparation meeting will be held at the last weekend of April (Saturday 23rd, Sunday 24th and Monday 25th) in the suburb of Lyon at the Fort de Vancia in Sathonay-Village.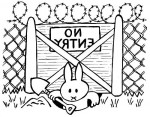 AUFRUF FÜR EIN SELBSTVERWALTETES CAMP GEGEN DEN G8 UND G20 GIPFEL IM SOMMER daß der kapitalismus schlecht ist, muß nicht mehr bewiesen werden, denn  nach jahrzehnten politischer analysen und unendlicher debatten wissen wir über seine immensen auswirkungen für menschen und umwelt bescheid. die ökonomischen und politischen führungskräfte haben ein system aufgebaut und seitdem aufrecht erhalten, das nur ihren eigenen interessen dient. das system wird immer mächtiger, es gibt wenig, was es daran hindert, uns auszubeuten. wir spüren immer mehr den willen, gegen diese ordnung anzukämpfen, die nicht mehr unseren bedürfnissen entspricht. in diesem kampf gegen die kapitalistische unterdrückung brauchen wir…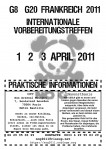 G8-G20 Frankreich 2011 Das nächste internationale Vorbereitungstreffen wird am ersten Wochenende im April (Freitag 1 Samstag, den 2. und Sonntag 3.) in Paris stattfinden. PRAKTISCHE INFORMATIONEN: ORT Das Arsenal Bourdon 7, Boulevard Bourdon 75004 Paris Metro: Bastille KONTAKTE 06 29 95 03 29 – 0033 6 29 95 03 29 nog2011.noblogs.org nog2011 (at) riseup.net Denkt an warme Kleidung, Decken, Iso-Matten, Schlafsack….auch wenn Paris jetzt schon im Frühlingserwachen steckt, sicher ist dass es im Squat kein Heizung gibt.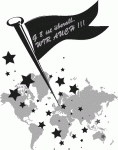 G8 ist überall, WIR AUCH! Internationaler Aufruf für dezentrale Aktionen am 26. und 27. Mai 2011 Deauville und Cannes sind Kasino-Städte, in denen die Betrüger des G8\G20 über Vermögen und Armut der Menschheit entscheiden werden. Aber dieses mal gehn wir nicht hin, zu ihrer kleinen Feier. Denn überall stoßen wir auf Plätze, Fassaden oder Bilder, die die kapitalistische Arroganz verherrlichen. Gewinne aus den vorgefertigten Krisen werden, trotz derer systematischen Nutzung zu Delinquenz und sozialer Kontrolle, schamlos zur Schau getragen. Sozial-Kontrolle? Jede Bewegung, jedes Wort, jede Idee sind erfasst, verfolgt. Jeder Versuch anders zu leben oder schlicht die persönlichen Rechte zu…
Comments are off for G8 ist überall, WIR AUCH!

Tags: